Mare-bella Dachshunds
We have top quality miniature dachshund puppies available with excellent temperaments who will be wonderful to own as a special companion for you, your child or an elderly friend or parent. We carry mostly longhaired English Creams but also have long and smoothcoat black/tans and reds. We have the authentic English Cream lines and we strive to breed to the UK English Cream breeding standards in order to maintain the true English Cream.
We do our very best for the dachshund breed.
We are aware of the dangers of breeding dilute to dilute and dapple to dapple.
We are aware of the danger and stay away from lines that have wire haired dachshunds bred into smooth or long coats. Lafora...
We know the downfall in the genetics when breeding chocolate to cream. This must never be done. If your cream dog does not have a black nose it is not an English Cream.
We PRA test to make sure your dachshund will not go blind.
We Brucellosis test for the well being and future of the dachshund breed.
Vet health checked- Vaccinated- De-wormed- Socialized. Call or email for information. Visitors are welcome! 989-506-4378
marebelladachshunds@gmail.com
We accept cash, Cash App, money orders and PayPal... (PayPal users please add the 4% fee or send it 'friends and family')
All prices are for pet only. Full AKC registration/breeding rights will be an additional amount.
We really do not like to fly our pups. If you are flying to Michigan, we will meet you at the Capital Region International Airport Lansing or the Gerald R. Ford International Airport Grand Rapids, Michigan.
We also offer home delivery. Prices vary with distance and location.
A $400 deposit will hold a pup in your name. This deposit is transferrable but non-refundable unless the withdrawal of the commitment is on our end. Checks are accepted for the deposit if it is early on.
Dachshunds aren't just a pet, they're a lifestyle...
---
Upcoming litters...
Hosanna daVinci
Longhaired English Cream litter born December 17
---
Song DIlly Dilly
Longhaired English Cream litter born December 3
---
Arta King Liam
Longhaired English Cream litter born December 4
---
Rembrandt Dilly Dilly
English Cream pups born December 5
---
Tuyet DandyLion
English Cream litter born December 12
---
Please read our contract above. Email or call us if you wish to be placed on the waiting list for a future pup. Specify what you are looking for: male, female, color, coat. We will get back to you when we have what you want!
marebelladachshunds@gmail.com
Please let us know if you are wanting to eventually breed. There are certain tests that need to be taken on a dog before he/she can be used to create more perfect little dachshunds. There are things in a dachshund's dna that crossed with another dachshund's dna can spell trouble for their pups in the future. We do dna testing on our adults to make sure that all of our pups will be perfect little dachshunds for their new owners. (see bottom of 'about the dachshund breed' page).
If you are in Canada, email Lisa at
europesfinestdoxies@hotmail.com.
---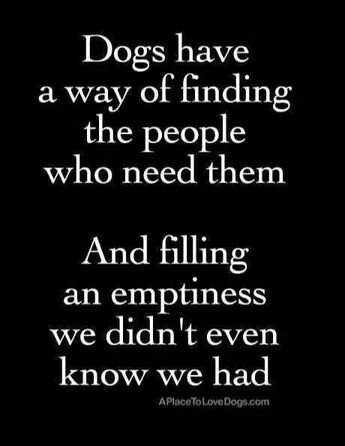 Sharing your heart is the best way to mend it.


---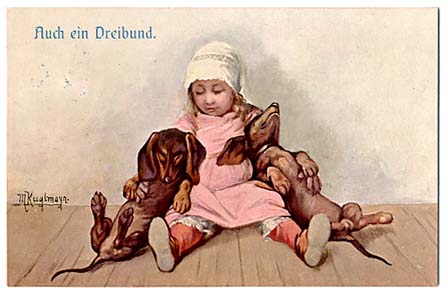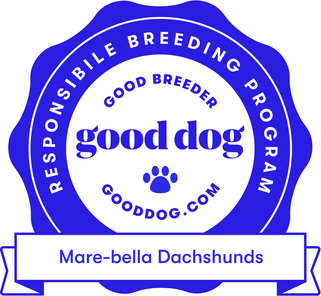 ---
NuVet Plus is a treat/supplement we give our dogs because we want to keep them as healthy as we can and because they absolutely love it! We highly recommend it!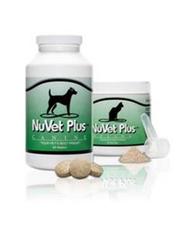 NuVet Plus is
not available in stores
or directly to the general public. You can only purchase NuVet Plus when you get a recommendation only from a pet professional.
Thousands of the nation's top veterinarians and other pet industry professionals use NuVet Plus® for their own pets and recommend it to their clients' pets!
NuVet Plus is Natural – No Artificial Sweeteners or Fillers
NuVet Plus – A Taste Pets Love! Made with Real Chicken Liver.
Insider's Secret:
NuVet products are not available in stores; they are distributed through educated and dedicated pet industry specialists. You can order directly from the manufacturer with a referral from us: 52998
Not Available in Stores
CALL NOW TO ORDER
800-474-7044
Order Code: 52998
Save up to 15% on Autoship when you order here: http://www.nuvet.com/52998
---